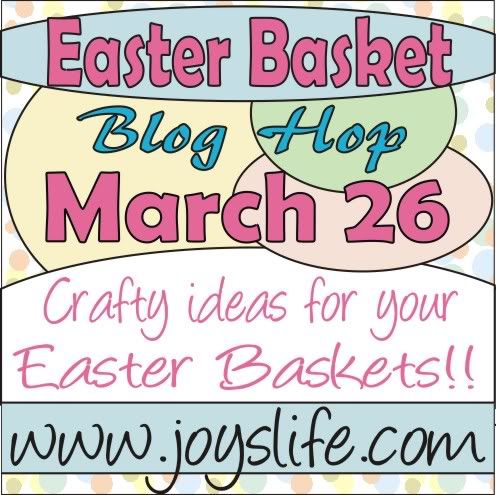 Hey Everybody welcome to the "Easter Basket Blog Hop!!" If you've come here from Kyle's blog over at
The Green Cricut
you are in the right place. If you've just happened upon my blog and would like to hop along you can start at the very beginning with our blog hop host Joy at
Joys Life
. I've been her follower for awhile now and I'm so excited to be part of this hop! Let's get to my project!!
This is my easter basket all finished with all the goodies!! I added ribbon to the handle and around the top edge. I also tied some extra ribbon scrap to the sides and added big blue bows on each side of the handle.
My son loves Kit-Kats so I had to spruce up the Kit-Kat bar. This was my first time ever trying out the rosette and I really like how it turned out. It looks like jelly beans!!
(Tip: use a hot glue gun for these I wasted to many glue dots trying to keep this thing together)
This is a revamped notebook from the dollar bin at Michaels! Gotta love that dollar bin!! My son is only 4 but he loves writing his ABC's and watching "How To Draw" videos on youtube and drawing what he watches. He's my little artist so I know he's totally going to love this notebook!! I just had an idea to make little toppers for some markers to go along with this. Maybe that'll be my post tomorrow :)
A close up of the little chick. He is from the adorable Simply Charmed cartridge. If you don't have this one it is a must have!! It's got everything on it and if you're a big
Peachy Keen Stamps
fan like myself this cart is great for those adorable face stamps!
I laugh everytime I look at this picture. Inside this box is swedish fish but for the easter twist we'll call them bunny poop! My family has a crazy sense of humor!
For the bunny and the basket I used the Create a Critter cartridge my all time fav!! I also used a Peachy Keen Stamp on the bunny face.
I hope my projects have inspired you to think outside the box and to create some cute little goodies for anyone in your life.
Blog Candy: In order to qualify for my blog candy you must leave a comment on this post, be a follower of my blog and "Like"
My Facebook Page
.
I am giving away a gift certificate to either Joanns or Michaels or Hobby Lobby!!!
I am sorry I have to limit the blog candy to persons living inside the united states.
Again thank you for hopping by my blog, I hope you like what you saw and want to come again! Thank you Joy for having me on this hop! It's been great and I hope I can do another one with you girlies soon!!
Your next stop on the hop is Julie at
Cricut Chick
Here is the line up just in case you get lost in translation:
Joy -
http://joyslife.com/
Amanda -
http://amandascraftsandmore.blogspot.com/
Rosy -
http://sweetdelightspapernmore.blogspot.com/
Ruthie -
http://www.septemberninth.blogspot.com/
Theresa -
http://www.thescrapbookingqueen.com/
Tammy -
http://tammyjennings.blogspot.com/
Melissa -
http://melissa-moecreations.blogspot.com/
Jin -
http://www.underacherrytree.com/
Kyle -
http://thegreencricut.blogspot.com/
Amy -
http://amydesigns.blogspot.com/
Julie -
http://www.cricutchick.blogspot.com/
Abbey -
http://www.2ndhandstamps.com/
Erika -
http://crafty-creations-by-erika.blogspot.com/
Sheryl -
http://igottacraft.blogspot.com/